List Number 101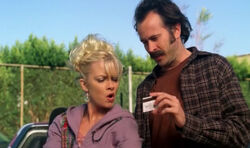 List title
Stole a girl's identity
Number 101 was an item on The List.
Stole a girl's identity
[
]
Joy and Liberty Washington have hated each other for their entire lives. Years later, Earl is with Joy at a grocery store parking lot when they run into Liberty. Earl steals one of Liberty's credit cards and him and Joy go on a spending-spree.
Joy is later told that Liberty is Joy's half- sister through her father. Earl goes to Liberty's house to make up for stealing her identity but she already had the debt erased. Liberty has been trying to become a member of the Black Ladies of Wrestling for years, so Earl and Randy help Liberty get noticed by a talent scout so Earl can cross her off his list.