List Number 112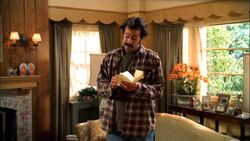 List title
(A) Let Donny Jones serve jail time for a crime I committed
(B) Took Donny away from his mother for two years
Number 112 was an item on The List.
Let Donny Jones serve jail time for a crime I committed
[
]
Earl allowed Catalina to pick an item from the list whilst he finished off his last pack of cigarettes before attempting #102. She chose #112 - "Let Donny Jones serve jail time for a crime I committed". However, Earl, being afraid of Donny, opted out of doing number 112.
Later, Randy and Catalina told Earl that they found out where Donny Jones lived and said that he should go and see him. Earl refused, but the two tricked him into going by arriving at Donny's house and locking Earl out of the car. Earl was forced to go inside when Randy honked the horn, attracting attention, and endeavored to explain his list to Donny. Donny, who found religion in jail, said that whoever robbed the donut store (for which Donny was framed and incarcerated) sent him a blessing in disguise. Earl explained that it was he who robbed the donut store in the hopes that Donny would forgive him after finding religion. Whilst initially seeming angry Donny said that he would probably have ended up in prison anyway as he was a sinner, and told Earl to cross him off his list.
Took Donny away from his mother for two years
[
]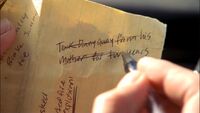 However, Donny's mother was less forgiving. Angered that Earl forced Donny to go to prison for two years, she hit him several times with her large-print edition of the Bible. Earl adds her to the list as a side note for #112. He later sees her smoking, and decides to help her quit before it kills her. He takes her back to the Motel and straps her to a chair, telling her that he will give her two more years with her son by keeping her alive for longer. He agrees to quit with her, and over a few days spent together in Randy and Earl's Motel apartment the two appear to have quit the habit.
Earl takes Donny's mother back to her house and she has a happy reunion with her son. Convinced he has helped, Earl crosses her off his list.
See also
[
]