List Number 126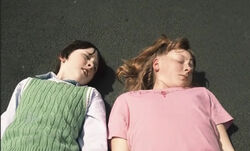 List title
Stole from the Hanson kids
Number 126 was an item on The List.
Stole from the Hansen kids
[
]
After a sky-diving incident, the Hanson family are all left paralyzed from the waist down. As kids, Earl and Randy steal Brett and Tiffany's wheelchairs to have fun. In order to make it up to Tiffany, Earl makes her former boyfriend T.R. jealous enough to take her back, as well as helping Brett's killerball team win to make it up to Brett.