List Number 127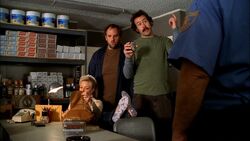 List title
Stole a badge from a police officer
Number 127 was an item on The List.
Stole a badge from a police officer
[
]
Earl stole a badge from a police officer, and enjoyed the power that came when he flashed it. However, the power got out of hand and when he, Randy and Joy began to fight over it, they decided to get rid of it.
Earl found the badge again and realized that he had to make up for stealing it. He took it to a local police station and learnt that it belonged to Officer Stuart Daniels, who had been demoted to watching a rest stop on the highway after losing the badge. Earl tried to help get him promoted again, but discovered that Stuart's true passion lay with bowling, which Earl encouraged him to follow upon. Stuart did so, and Earl realized he could cross him off the List.