List Number 139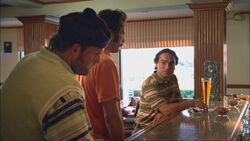 List title
Stole Beer from a Golfer
Number 139 was an item on The List.
Stole Beer from a Golfer
[
]
Earl remembers back seven months when playing Chance with some friends at the Country Club he lost a lot of money. However, a golfer, Scott, treated everyone in the bar to a free beer after scoring a hole. This gave Earl an idea; if he and Randy made sure that Scott always got holes in one, he would always buy them beer. So, the brothers started fixing Scott's games in their favour. Before long he earned the course record, and even started buying Earl and Randy big lunches.
Earl went to see Scott and explained what had happened. He brought the golfer several packs of beer and told him to open his trunk so he could put the beer in and cross him off the list. However, Earl learnt that Scott had lost everything because of what he had done; after becoming obsessed with trying to get his good game back he lost focus at his fancy job, and so in turn also lost his apartment, leaving him to live in his car. Earl went to Scott's former boss and explained the situation, and managed to talk the man into letting Scott have his job back. Scott was overjoyed, and said that if he just had his girlfriend back everything would be perfect. Earl learnt that Scott's girlfriend, Tess, had been pushed away by Scott's golf obsession, and so Earl said he would help get her back.
As a sign of his new lease of life, Scott burnt his golf clubs in front of Tess and showed her that he would no longer put gold ahead of her. He said that he missed her, and she admitted that she missed him to, and agreed to take him back. Scott moved back into their apartment and everything appeared to be back to normal for him. However, Earl soon learnt that Scott and Tess' former dog, Poochie, was put up for adoption by Tess after she had no time to look after him, taking two jobs to pay the rent when Scott moved out.
Randy managed to recover Poochie for the couple, and after returning him Earl realised that he could cross Scott off his list.
Notes
[
]
Stole beer from a golfer was shown as 67 in the opening credits
See also
[
]