List Number 152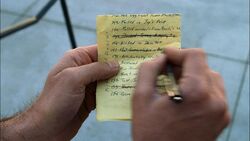 List title
Told Joy Bruce Willis was a ghost
Number 152 was an item on The List.
Told Joy Bruce Willis was a ghost
[
]
This item was seen on the list a couple of times during the show. As the title suggests, Earl ruined the ending of The Sixth Sense for Joy by telling Joy the twist that Bruce Willis's character was dead throughout the movie.