List Number 153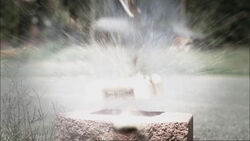 List title
Broke Joy's Fancy Figurine
Number 153 was an item on The List.
Broke Joy's Fancy Figurine
[
]
In his heyday Earl stole a figurine from Joy and used it with Randy to hold a bottle rocket upright so it would fire into the sky. In the process, it was destroyed. Earl was unaware that Joy had won it in a beauty pageant, and so decided to make it up to her by winning it for her again in the latest competition. However, Joy wanted Earl to buy her a hot tub instead, and so she entered the competition herself.
Earl helped Shelly Stoker and her daughter Candy with their talent, knife throwing, by allowing himself to be strapped to a spinning board whilst knives were thrown at him. However, Earl learnt that Candy did not want to participate in such events, and so he told her to throw a knife into his leg, thereby forfeiting the competition. She did so, leaving Joy the winner of the competition.
Without realizing it, Earl had helped Joy to win the trophy and so he understood that he was allowed to cross her off his list, after seeing how happy she was upon winning the trophy.