List Number 159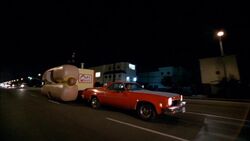 List title
Stole P's HD Cart
Number 159 was an item on The List.
Stole P's HD Cart
[
]
Ralph Mariano reminded Earl of when they stole Pops's Hot Dog Cart (P's HD Cart) after being paid to do so by Jack Knox, the owner of Camden County's Winky Dinky Hot Dogs.
Earl found the cart and returned it to Pops, and after securing him more business attempted to cross him off the List. However, Ralph burnt down the cart after being paid off once more by Knox. Ralph then felt bad for what he had done, and so cut off his little toe and put it in a Winky Dinky hot dog, receiving $10,000 compensation which he used to buy Pops a new cart.
Notes
[
]
Earl wrote "Stole P's HD Cart" instead of "Stole Pop's Hot Dog Cart" on his List because he did not want people to know what he had done.