List Number 164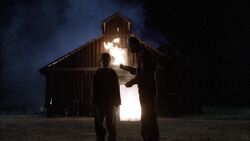 List title
Burn down a barn at the Right Choice Ranch
Number 164 was an item on The List.
Burned down a barn at the Right Choice Ranch
[
]
When Earl and Randy went to Right Choice Ranch Randy went in to the barn to smoke one of Earl's cigarettes because Earl would't let him but when he found a chicken was in the barn Randy dropped his lamp and ran off causing the barn to catch on fire, but the owner of the ranch thought it was Earl's fault and kick him and Randy out. Earl decided to make up for his mistake because the owner would't let Joy put Dodge and Earl Hickey, Jr. to the Ranch, the owner let Earl make up for his mistake by building a fence for the ostrich pen.