List Number 183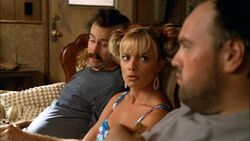 List title
Never took Joy's side
Number 183 was an item on The List.
Never took Joy's side
[
]
Earl remembered back to always taking the side of other people over Joy, such a woman with large breasts, Randy, and even a crab which Joy cracked incorrectly. Earl decided to support Joy, who demanded that Darnell throw her a surprise party for her birthday. Earl help to arrange the party, which caused him to be dragged into Joy's crazed attempts to sell a Bargain Bag van. However, he was able to cross #183 off the List.