List Number 239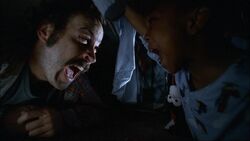 List title
Made a kid scared of the boogeyman
Number 239 was an item on The List.
Made a kid scared of the boogeyman
[
]
When Albie Tollhurst was young, Earl scared him into believing in the existance of the boogeyman by hiding under his bed one night after trying to steal some things from his house. He made it up to Alby, first by being his slave for the day at Alby's request, then helping him to conquor his fear of the dark.