List Number 24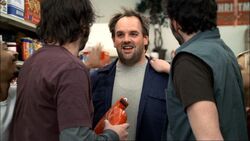 List title
Stole a red 'Take-a-number' machine
Number 24 was an item on The List.
Stole a red 'Take-a-number' machine
[
]
After believing the world ended on Y2K, Earl, Randy, Joy, Darnell and Donny Jones broke into a Bargain Bag store while it and the streets were deserted for the New Year's Parade and took control of it for themselves. They used a "Take-a-number" machine to decide upon matters; whoever had the lowest number ticket in any disagreement got their way. After realizing that the world had not ended waking up on January 2 to a packed store, they quickly left, taking the machine with them.
Earl returned it in 2006 and crossed the item off his List.