List Number 241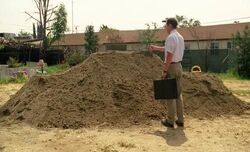 List title
Made Derrick Stone late for work
Status
Complete (uncrossed)
Number 241 was an item on The List.
Made Derrick Stone late for work
[
]
Whilst Earl was in a coma, Randy tried to help him cross some items off his list in the hopes that karma would make him better. He goes to Derrick Stone, whose car Earl and Randy had buried in mud several years before when he tried to go to work before 9:00am, when Randy and Earl were trying to sleep. Because of this, he lost his job, girlfriend and car. Randy tried to make it up to him by putting a comatose Earl in the back of the car that Derrick stole, but all that happened was that the girl who now owned the car became scared and pepper-sprayed Earl. Derrick was upset because he no longer had his car and had to ride the bus, and Randy decided that he could not do anything to help Derrick at the moment, and so left him.
Little did Randy know that by putting Earl in the car he had scared the girl who owned the car, and she asked Derrick if he would carpool with her so that she would not be alone. Happy, he got in with her and inadvertantly Randy had helped Derrick because he no longer had to ride the bus, and was on the way to getting a new girlfriend.
Randy did not cross #241 off the list because he was unaware of what happened.
See also
[
]