List Number 26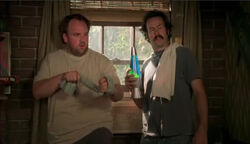 List title
Robbed a stoner blind
Number 26 was an item on The List.
Robbed a stoner blind
[
]
A few years ago, during a heatwave, Earl and Randy broke into houses to try to find some relief from the heat. One day they broke into Woody Maruzak's house, a stoner. To make the most out of the air-conditioning, Earl and Randy robbed Woody one piece at a time while he was too stoned to realize it. They cleaned Woody out, but left the air-conditioner for last and then never came back. After getting the air-conditioner back from Joy, they follow his forwarding address to a self- sufficient commune called Sunshine Collective. In order to cross Woody off his list, Earl and Randy need to stay at the commune for a week. This reduces their carbon footprint and Earl and Randy learn about global warming, among other things.