List Number 260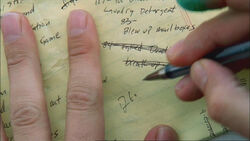 List title
Neglected Randy
Number 260 was an item on The List.
Neglected Randy
[
]
After angrily rebuking Randy for not helping with #139 on The List, Earl realised that he had neglected him for many years. He added the first item to the List since it's creation, and decided to never cross it off as he could never fully make up for what he had done to his brother.
His first act of un-neglecting was to secure the car from "Smokey and the Bandit", which Randy had wanted to see at the Camden County Fair that he never got to because of Earl's List. Randy was overjoyed and drove it around for hours.
Took away Randy's touchdown
[
]
In Randy's Touchdown, Earl added #260 to his List after he took away Randy's chance to score a touchdown. However, it seems likely that he did not add it as #260 as it was stated, and he infact added it to #58 as a subitem. This is emphasised by the fact that Randy's touchdown is not mentioned when Earl adds "Neglected Randy" to the List in Stole Beer from a Golfer, and from the way that Randy tells Earl to cross him off the List in Randy's Touchdown.