List Number 261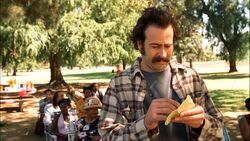 List title
Ruined Joy's Wedding
Number 261 was an item on The List.
Ruined Joy's Wedding
[
]
Earl was angered that he had not been invited to Joy and Darnell's wedding, especially because Joy had arranged for it to occur on Earl's birthday. He drunkenly arrived at the ceremony and tried to explain to Joy that they should have a good relationship. The wedding, which was being held in a park, was interrupted several times by a soccer ball that was kicked into the ceremony, and Earl, trying to kick it back to the players, accidentally kicked it into Joy's face, breaking her nose.
To make it up to Joy, Earl designed a new wedding and paid for it all himself. Despite sleeping with Joy three days before the wedding, everything went ahead as planned and Earl crossed the item off his list.
See also
[
]