List Number 262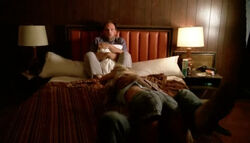 List title
Slept with Crab Man's fiancee
Number 262 was an item on The List.
Slept with Crab Man's fiancee
[
]
After helping Joy plan a new and better wedding after Earl ruined the first one, they started having feelings for each other again. This lead to Earl and Joy sleeping together 3 days before Joy's marriage to Darnell. Earl confessed this to Darnell but Darnell forgave him immediately.