List Number 264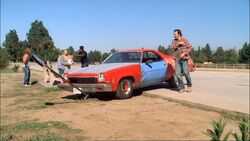 List title
Broke bus stop while looking for Poncho the blue fish
Number 264 was an item on The List.
Broke bus stop while looking for Poncho the blue fish
[
]
Earl and Randy were returning a laptop they stole (#37) from Alex Meyers, a professor at Frostburg College. The screensaver of the laptop came up, and whilst Earl was distracted by looking at it, he crashed the El Camino into a bus stop. He added it to his List, then told one of the ladies waiting for the bus that he would come back and fix it the next day.
However, he did not do so after staying with Alex at the College. Karma began to punish Earl, and he realised that he could not stay with Alex. He went back and fixed the bus stop, and crossed the item off his List.