List Number 267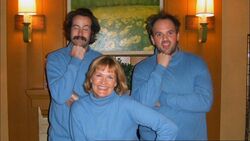 List title
Never gave mom a good Mother's Day
Number 267 was an item on The List.
Never gave mom a good Mother's Day
[
]
Earl remembers never having given his mother a present on Mother's Day, and so decided to make it up to her by fulfilling the promises he made in some homemade coupons stolen from Kenny James as a child. They took portraits, watched old movies, gardened and much more.
It is presumed that Earl crossed this off the List, but it is never seen.