List Number 269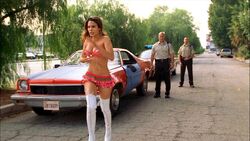 List title
Got Catalina deported
Number 269 was an item on The List.
Got Catalina deported
[
]
Due to Earl's gambling problem resulting from trying to make Kenny James more manly, Catalina had to drive herself to Club Chubby for her shift. Catalina didn't have a license and was pulled over for speeding, being an illegal immigrant, she was deported back to her country ("Born a Gamblin' Man").
Earl and Randy travel to Catalina's country to bring her back to America. Randy wants to confess his love to her and Earl wants to cross her off his list. After many unfortunate events, Earl and Catalina are reunited and are told they need to marry for Catalina to be able to come back to America. Randy is upset because he wanted to be the one to marry Catalina. Earl is put through all the tests from Catalina's people and fails on purpose to give Randy the chance to marry Catalina and be the hero. Randy passes with ease and marries Catalina. They all travel back to America and Earl can cross her off his list ("South of the Border, Part Uno")("South of the Border, Part Dos").