List Number 27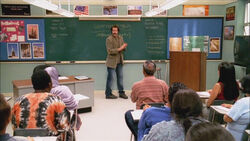 List title
Made fun of people with accents
Number 27 was an item on The List.
Made fun of people with accents
[
]
After recalling several incidents when he made fun of foreign people who could not speak correct English, Earl decided to take a class of EFL students and teach then English. At first the class seemed hopeless, only able to repeat the first thing their teacher taught them: "My - name - is - Earl".
After then moving on to directions, Earl seemed convinced that he could not help the students speak English. However, he later met one of the students, Vali, who worked as a store clerk, who clearly had improved English. Later, when Ralph had trapped Earl and Randy in their room in the Motel, the students managed to save the brothers by navigating to Earl's house; a particular lesson he had taught them during the class. After being dubbed "Karma's Army" by Randy, they helped the two to escape and stopped Ralph from stealing Earl's money.
The students, Earl and Randy went to the Crab Shack and celebrated their new common language over a beer. Earl crossed #27 off his list.
Notes
[
]