List Number 270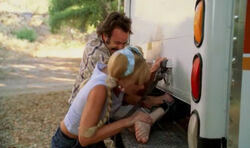 List title
Kept a guy locked in a truck
Number 270 was an item on The List.
Kept a guy locked in a truck
[
]
After Karma gives Earl a few signs, Earl realizes he needs to add Josh, the guy in the truck that Joy stole. Earl brings a massage therapist over to where Josh lives to make up for the stress Josh went through, but they discover Josh was crushed by the bed in his apartment. After receiving a nightmare, Earl throws Josh a funeral. The first funeral flops because Earl could not find anyone who knew Josh so he only invited people he knew who didn't care about Josh.
Joy has a similar nightmare to what Earl had so they both help throw a second funeral. As they are packing up Josh's stuff, they realize he had a very active life online. The second funeral Earl and Joy threw for Josh had his online friends show up and was quite successful.