List Number 29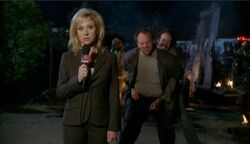 List title
Harassed a reporter
Number 29 was an item on The List.
Harassed a reporter
[
]
After a meth lab explodes with a celebrity in it, a news team covers the incident. Earl and Randy see this as a time to perform "Crazy arms" on television. After finding out people preferred seeing Earl and Randy on tv than most other things, they continued to track reporter Nicole Moses and perform silly stunts. This eventually lead to Nicole being placed in the news before dawn timeslot.
Earl explains the list to Nicole and the way to make things right, by allowing Nicole to report on Earl doing a list item. They chose among other things, to rebuild Joy's kid's clubhouse. Eventually through editing, Nicole makes Randy out to look mentally retarded and Earl was made out to look out that he was building the clubhouse for Randy. Nicole got her spot on the primetime news hours again and Randy realized karma was doing things to him too, not just Earl.