List Number 62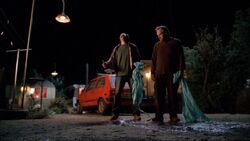 Number 62 was an item on The List.
Siphoned gas
[
]
A month before discovering karma, Earl and Randy began to steal gas from the car of Philo who, coincidentally, was trying to kill himself with car exhaust that same month. After he was unable to kill himself he continued with his miserable life until trying to get himself run off, at which point Earl and Randy came to give the gas back to him.
After returning the gas, Earl crossed Philo off his List, but he continued to help him find a reason to live, despite the fact that he was annoyed by Philo, and that he had already been crossed off the List.
Notes
[
]
62 is shown to be different items at different points.