List Number 64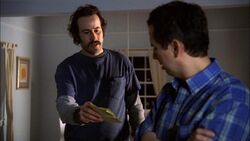 List title
Picked on Kenny James
Number 64 was an item on The List. It was the first thing he crossed off.
Picked on Kenny James
[
]
Earl remembered being mean to Kenny James when he was a child, and so he decided to make up for it. He went to see Kenny, but was freaked out when he saw homosexual magazine ("Man's Man") in Kenny's house. Earl decided to give Kenny another try when he got back to his Motel, and went to see Kenny again, who explained he never had the courage to go to a gay bar.
Earl reluctantly agreed to go with him, and whilst there Kenny heightened greatly in confidence, and told Earl that he could cross him off his list.
After this, Earl and Kenny became good friends and Earl often talked to Kenny when he needed advice.
However in the opening credits of the show it shows the list. The list has number 64 on it but it says "Vandalised the bridge" instead of "Picked on Kenny James".