List Number 65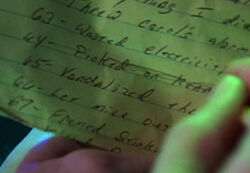 List title
Vandalised the...
Number 65 was an item on The List.
Vandalised the...
[
]
The contents of this item are unknown.
Notes
[
]
This item can be seen below "Picked on Kenny James" as Earl crosses it off. The contents of the item beyond this are unclear, except that the third word begins with "L".
Alternates
[
]
In the opening credits it is shown as Cost Dad the election which was Number 4 on the show.