List Number 66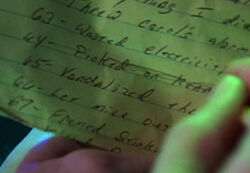 List title
Let mice out of the...
Number 66 was an item on The List.
Let mice out of the...
[
]
The contents of this item are unknown.
Notes
[
]
This item can be seen below "Picked on Kenny James" as Earl crosses it off. It is unclear what the second half of the title is (as in where he let the mice out of), but he word appears to be "attic".
On the trailer for the Season 1 DVD #66 is "Quit stealing".
In th opening Credits it says Let mice out of the School Play.