List Number 7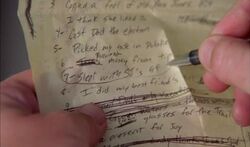 List title
Slept with SJ's GF
Number 7 was an item on The List.
Slept with SJ's GF
[
]
Earl remembered Sweet Johnny, a stunt man in Mt. Tracks who he used to convince to do crazy stunts so that Earl could sleep with Johnny's girlfriend, Sheila. The bigger the stunt, the more damage done to Sweet Johnny, the longer he would need to recover, and therefore the more time Earl could spend with Sheila.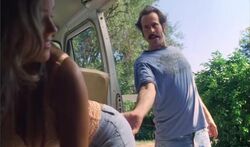 When Earl went so see Sweet Johnny to tell him the truth, Johnny got upset and shot him with a staple gun. The next day Johnny seemed to have forgotten the previous day, which confused Earl. He tracked down Johnny's girlfriend, Shelia, to find out why. She explained that he hit his head on a windowsill whilst putting on his jumpsuit, which caused him to have memory loss, sticking his mind in 1999.
Earl explained all this to Johnny, whom he felt deserved to know. Johnny was horrified and tried to commit suicide. Earl managed to save him and realised how selfish he was being about his List, only trying to make himself feel better about crossing off the item. He decided to leave the item on permanently, making sure to contstantly check back on Johnny that he was still his cheerful self.
Notes
[
]
Much like Stole P's HD Cart, Earl merely wrote "Slept with SJ's GF" on his List, instead of "Slept with Sweet Johnny's Girlfriend". This is either due to the fact that he was embarrassed about the contents of the item, or he merely did not have enough space to fit the full details on.
Earl claims that this is the first time he would leave someone on the List permanently, but he already decided to do this with Randy and #260.