List Number 72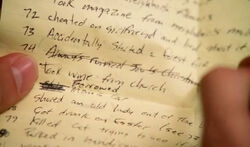 List title
Cost Joy a hot tub
Number 72 was an item on The List.
Cost Joy a hot tub
[
]
Joy had a job doing some spoke modeling at the Camden hot tub and barbecue convention and was going to get paid with a free hot tub, but Earl lighting a cigarette near Joy's hair spray caused both of them to lose their hair. Earl found a hot tub on the side of the road when he was driving Catalina to Club Chubby but found Homeless Joe lived under it, after a hard bargain Homeless Joe traded the hot tub for a borrowed deodorant and Earl gave the hot tub to Joy.
Notes
[
]
In White Lie Christmas #72 is seen as "Cheated on girlfriend and lied about it".
Despite the fact that in an earlier episode, Joy was asking for a hot tub instead of a mini figurine, Earl still got her the figurine, when he could have got her the hot tub and crossed off two instead of one.