List Number 73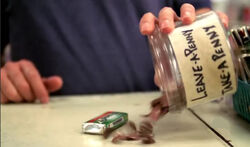 List title
Always took a penny, never left a penny
Number 73 was an item on The List.
Always took a penny, never left a penny
[
]
Before the list, Earl used to take the coin jar at convenience stores and use them as his own cash to pay for things. He made up for this by putting hundreds of pennies in a tray at a store.
Notes
[
]
In "White Lie Christmas" #73 is "Accidentally started a forest fire". It also links with #78, in which Earl says that he got drunk on Easter, which caused the forest fire.