List Number 84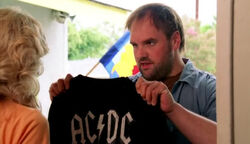 List title
Faked death to break up with girl
Number 84 was an item on The List.
Faked death to break up with girl
[
]
Whilst in the store, Earl sees Natalie Duckworth, a girl who Earl had met several years ago at a biker costume party at the Crab Shack who Earl realised, upon waking at her house the morning after the party, was not the same sort of person he was - she was an active, girly, mountain-climbing woman and, despite Earl trying to like the same sort of things she did, they just did not fit together. Without wanting to hurt her feelings, Earl decided to fake his death by sending Randy to Natalie's house with his wet AC-DC T-shirt and saying that he was drowned at sea.
Earl decides to tell Natalie the truth to cross her off his list. Earl explains the lie to Natalie and she eventually tells Earl that she is glad he is not dead, and gives him a paper-mache bust of Earl that she made whilst mourning him. Earl congratulates her on meeting her new boyfriend, Dirk, and they part. Earl looks for a pen to cross Natalie off his list, but she arrives at their room, explaining that Dirk's car was supposedly found in the woods with blood in it. She assumes he has been killed and Earl leaves to get her a drink. However, he sees Dirk in a different motel room with a stripper, and he explains that he got the idea from Earl.
Earl vented everything to her, about how she was so insecure that she would not break up with him and everyone just wanted to get away from her. She was so angry that she decided to take her own life, but Earl soon found out it was a trick to make Earl feel bad. As scared as he felt when Natalie surprised him at her funeral, Earl was pleased that she had finally managed to gain confidence. Natalie began to showcase her art in galleries, stand up to Dirk and grow as a person. Earl was able to finally find a pen and cross her off his list.