List Number 86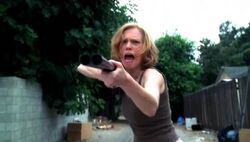 List title
Stole a car from one legged girl
Number 86 is a objective on The List.
Stole a car from one legged girl
[
]
When Earl and Didi first met it was Ladies Night at the Crab Shack, which meant he and Randy were using some of their best moves. Earl was drunk, called her Peggy, and said she had great boobs. Once he got her name right, Didi fell in love ("The Birthday Party").
Everything seemed great until the next morning when Didi hopped out of bed on her one leg. Earl, freaked out, told Didi that he loved her and would marry her, before stealing her car keys and her money. Didi found him just before he could leave, and chased him out of the house with a shotgun. After trying to go and see her on several occasions he was unable to make up for what he did, or even to communicate with her ("Quit Smoking"), ("Monkeys in Space").
Earl finally realized that he had to do something about Didi, and so went to see her at her place of work, Yummy's Doughnuts. At first she did not want to see him, but Earl explained his List to her and she said he could cross her off if he hopped around on one leg all day to understand what she had to go through. He did so, and crossed her off ("Camdenites (Part 1)").