List Number 91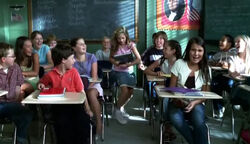 List title
Made fun of Maggie Lester
Number 91 was an item on The List.
Made fun of Maggie Lester
[
]
Maggie Lester was a new kid at Williamsburg Junior High school in 1984. Maggie was a bearded girl, and Earl would make fun of her. During the time the show Magnum P.I. and Tom Sellek were very popular and Maggie was given the nickname (by Earl) "Maggie P.I.", which stuck with her until she left to be home-schooled a few months later.
Earl tracks Maggie down in present day through the Yellow Pages to Shady Grove. In order to cross Maggie off his list, Maggie wanted Earl to get to know her. After getting to know Maggie and crossing her off the list, Earl realizes Shady Grove is a community for circus-folk when not on the job. Earl realizes he hasn't changed about how he looks at carnival folk, so Earl and Randy get to know all of them and in the process they all become friendly towards each other. Eventually, Earl overcomes an oddity from his past and the circus-folk are encouraged to go out into the real world.