List Number 94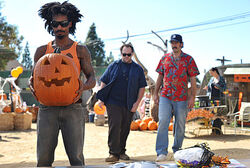 List title
Ruined Dodge and Junior's Halloween
Number 94 was an item on The List.
Ruined Dodge and Junior's Halloween
[
]
Earl didn't go with Dodge and Earl Jr. when they went trick or treating on Halloween, they ended up being forced to fight each other by some bums and every one at the Pimmit Hills Trailer Park ended up looking for them. Joy made Earl throw a Halloween party for everyone at the trailer park for worrying them that night so Earl could cross it off his list.