Alyssa Milano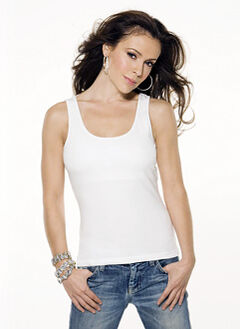 Date of Birth
19 December 1972
Birthplace
Brooklyn, New York, USA

Alyssa Milano plays the role of Billie Cunningham on My Name is Earl. So far, she appeared in 9 episodes of the third season. As well as being employed as an actress, she performed as a producer on her long running show Charmed.
Biography
[
]
Alyssa Milano is the daughter of Italian-American parents Lin, a fashion designer, and Tom, a film music editor. Alyssa was born in a working class neighborhood in Brooklyn and grew up in on Staten Island. One day, her babysitter, who was an aspiring dancer, dragged Alyssa along to a an open audtion for the first national tour of Annie. But it was Alyssa, not the sitter, who beat out 1,500 other wanna be stage actresses to snag a role. At the age of seven Alyssa joined the tour as July, one of the orphans. After 18 months on the road, Alyssa, who had begun to garner a reputation as an energetic and charismatic young actress, left Annie to be featured in off-Broadway productions and television commercials.
Then, in 1983 at age 10, she landed her breakthrough role on the new sitcom "Who's the Boss?" (1984) as Tony Danza's saccharine sweet daughter, Samantha Micelli, a kid whose native Brooklyn accent rivaled her TV dad's. In order for Alyssa to accept the gig, the Milano family had to uproot and move 3,000 miles to Hollywood.
Selected filmography
[
]
Pathology (2008)
Wisegal (2008)
The Blue Hour (2007)
Reinventing the Wheelers (2007)
Dinotopia: Quest for the Ruby Sunstone (2005)
Dickie Roberts: Former Child Star (2003)
Kiss the Bride (2002)
Buying the Cow (2002)
Lady and the Tramp II: Scamp's Adventure (2001)
Diamond Hunters (2001
Goldrush: A Real Life Alaskan Adventure (1998)
Hugo Pool (1997
Below Utopia (1997)
Public Enemies (1996)
To Brave Alaska (1996)
Glory Daze (1996)
Fear (1996)
Poison Ivy II (1996)
Jimmy Zip (1996)
The Surrogate (1995)
Embrace of the Vampire (1995)
Deadly Sins (1995)
Double Dragon (1994)
Confessions of a Sorority Girl (1994)
Candles in the Dark (1993)
Casualties of Love: The Long Island Lolita Story (1993)
Conflict of Interest (1993)
The Webbers (1993)
Little Sister (1992)
The American Film Institute Presents: TV or Not TV? (1990)
Speed Zone! (1989)
Dance 'Til Dawn (1988)
Crash Course (1988)
The Canterville Ghost (1986)
Commando (1985)
Old Enough (1984)
Television appearances
[
]
My Name Is Earl (2007-2008)
Charmed (1998-2006)
Spin City (1997, 2001)
Fantasy Island (1998)
Melrose Place (1997-1998)
The Outer Limits (1995)
Who's the Boss? (1984-1992)
Série rose (1990)