Charles Howerton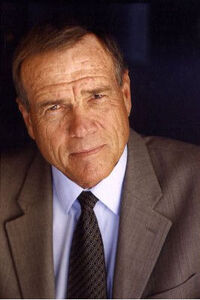 Date of Birth
24 June 1938
Birthplace
Cuero, Texas, USA
Charles Howerton plays the role of FBI Agent Thompson on My Name is Earl.
He first appeared, unnamed, in Y2K as the agent who dropped "Harry Monroe" off in Camden County and told him that from then on he would be called Darnell Turner. He later reprised this role in Season 4 for several episodes when Darnell's cover was blown.
He also appeared in The Frank Factor as an FBI Instructor.
Biography
[
]
At the University of North Carolina, Charles wrote, directed and performed in radio dramas for the NAEB and appeared on the Playmakers stage. He wrote plays and short stories, many of which have been published. He graduated with a B.A. in Communications in 1960. He attended the Graduate School of Theatre at the University of Texas, where he worked as a Children's Theatre Assistant and majored in Playwriting, but also acted in major productions with guest stars like Rip Torn and Barbara Barrie, and in leading roles at the Austin Civic Theatre.
Charles married his college sweetheart, Jeri Lynn Mooney (aka Susan Howard) and went west to Los Angeles in 1962, working Equity waiver productions with old-time actors like Frank Faylen, Percy Helton, E.J. André, Lyle Bettger and Alan Mowbray at the Masquers Club. He also wrote dialogue and narration for independent features and worked as a salesman for Burlington Mills and Moore Business Forms. He and Susan divorced in 1966. They have one daughter, Lynn, and grandchildren Daniel and Noelle. Charles re-married, in 1967, to actress Linda Gary and they have two daughters, Alexis and Dana.  After Linda's death in 1995, he married again to singer Jeanne Page.  He continues to perform on stage, in television, film and commercials.
Television appearances
[
]
Dirt (2007)
My Name is Earl (2006-2009)
Days Of Our Lives (2015)
Justified (2015)