Donny Jones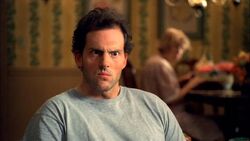 Appeared in
{{{Appearances}}}
Mentioned in
{{{Mentioned}}}
Date of birth
{{{Birth}}}
Date of death
[[{{{Death}}}]]
Profession
{{{Profession}}}
[[:Category:{{{Images}}}|Images]]
Donny and Earl used to be good friends, but Earl later avoided him because he believed Donny to be crazy. One time after a paper boy threw his paper at Donny's beer, Donny tackled him to the ground.
Earl robbed a donut store with a water pistol, hiding his face under a pair of women's tights. Earl failed in his attempt to rob the store and fled. However, Earl was wearing Donny's shirt while he robbed the store and caught his cold, causing the clerk in the store identified the thief as being Donny. Donny was sent to prison and served two years. In his time in jail, he found religion.("Quit Smoking")
Donny was with Earl when they thought the end of the world came following the year 2000. They took over a Bargain Bag store, and tried to start the world again. However, they soon found out that the world was not over, and left the store quickly ("Y2K").
Randy and Catalina tricked Earl into going to Donny's house to go and apologize because he was afraid as Donny used to be crazy, Earl told him that he was the one that framed him in the donut store, Donny looked angry and asked Jesus what to do then told Earl that he forgave him as he would have ended in prison even if Earl hadn't framed him. Earl also helped Donny's mom stop smoking.("Quit Smoking")
Donny was seen in an episode of "Cops" that was filmed in Camden County standing naked on his front lawn with a snake around him while Kenny kept driving past to stare at him, when Police Officer Stuart Daniels told him to put some clothes Donny covered his private area with the snake which was good enough for Stuart.("Our 'Cops' Is On!")
Donny was invited to Earl's birthday party and sings a bad version of Pat Benatar's "Heartbreaker" entitled "Pot Breaker" to reminded Earl of the time he nearly got killed by a fern thanks to him. He was also seen in Darnell's flashback throwing rocks at him for giving him regular brownies instead of pot brownies because Earl switched the signs around. ("The Birthday Party")
Donny was invited to Earl and Joy's first year anniversary party where he tried to kill a bee with a gun.("Earl and Joy's Anniversary")
Community content is available under
CC-BY-SA
unless otherwise noted.