EdReed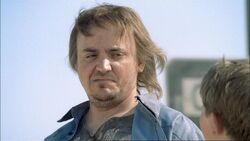 Mentioned in
{{{Mentioned}}}
Date of birth
{{{Birth}}}
Date of death
[[{{{Death}}}]]
Profession
{{{Profession}}}
[[:Category:{{{Images}}}|Images]]

Ed Reed was Billy Reed's brother.
Before Season 1
[
]
An 11 year old Earl told Billy and Ed that his father's new Mustang was faster than Billy's Firebird, and Billy challenged him to a drag race. Earl lost as he did not know how to get the car out of first gear, and he had to give the car up to Billy. Whilst the race took place, a young Randy advised Ed against smoking ("Dad's Car").
Season 1
[
]
Earl went back to see Billy to buy the Mustang. However, Billy said the only way he would give up the car would be to race for it. Earl agreed, but both the Mustang and Earls's El Camino cut out, requiring each brother to push the cars to the finish lines. Randy was stronger than Ed, who was a heavy smoker, and Earl managed to win, and got the car back.