Eddie Steeples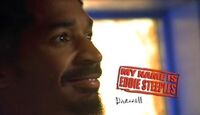 Date of Birth
25 November 1973

Eddie Steeples plays the role of Darnell Turner on My Name is Earl.
Besides being an actor, he is also a producer, writer and director.
Biography
[
]
Eddie graduated from Klein Oak High School in Spring, Texas in the class of 1992. Long interested in an acting career, he studied theater at the St. Louis Repertory and moved to New York City in the mid-1990s. There he joined an experimental film group, Mo-Freek, and a hip hop group, No Surrender, to which he still belongs. Among the Mo-Freek productions he has starred in are Lost in the Bush, Caravan Summer, and People Are Dead. He also starred in the short film Whoa and appeared as a guest on The Chris Rock Show.
Steeples became nationally known when he was cast as the "Rubberband Man" in a series of award-winning commercials for OfficeMax, featuring the 1976 song "The Rubberband Man" by The Spinners. Steeples' performance in those commercials led him to be named one of the "World's Sexiest Men" of 2004 by People magazine. He has also appeared in the feature movie Torque, starring Ice Cube, Faison Love, and Jaime Pressly.
Steeples appeared in the movie Akeelah and the Bee, starring Laurence Fishburne and Angela Bassett, released in April 2006. An independent movie written and directed by Doug Atchison, Robbers, is now in post-production, and Steeples has recently starred in a new Mo-Freek production called When Is Tomorrow, which he co-wrote and co-produced with Kevin Ford.
Steeples appears as Darnell Turner (also known as "Crab Man") in the NBC sitcom My Name Is Earl, which premiered September 20, 2005. In the episode "Stole P's HD Cart," he parodied his role as the "Rubberband Man" as his character worked briefly in an office. Darnell's assigned task was to distribute office supplies out of a shopping cart.
He was in Thailand on December 26, 2008, and survived the Asian tsunami which left approximately 230,000 people throughout the Indian Ocean region dead or missing.
Selected filmography
[
]
Zombie Apocalypse (2011)
I Know Who Killed Me (2007)
When Is Tomorrow (2007)
Roman (2006)
Akeelah and the Bee (2006)
Wristcutters: A Love Story (2006)
The Best of Robbers (2006)
The Lost (2005)
Torque (2004)
Lovindapocalypse 2 (2002)
People Are Dead (2002)
Whoa (2001)
Television appearances
[
]
My Name Is Earl (2005 - 2009)