Jeff Muskin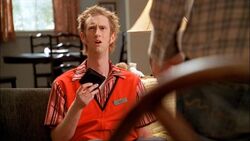 Mentioned in
{{{Mentioned}}}
Date of birth
{{{Birth}}}
Date of death
[[{{{Death}}}]]
Profession
{{{Profession}}}
[[:Category:{{{Images}}}|Images]]

Jeff Muskin was an employee at a fast food restaurant who Earl stole a wallet of money from.
Before Season 1
Edit
While Jeff was at the toilet in a public restroom, Earl stole his wallet and found $1000. Jeff was planning on spending the money on a honeymoon with Jesse, his wife ("O Karma, Where Art Thou?").
Earl returned the wallet to Jeff, who was annoyed that he had not been able to go on his honeymoon because of Earl. Earl offered to fill in for Jeff at his job for a week whilst he and Jesse went on their honeymoon.
Upon Jeff's return, he was promoted to manager after Mr. Patrick was sent to prison.