Jurassic World: Dominion Dominates Fandom Wikis - The Loop
Play Sound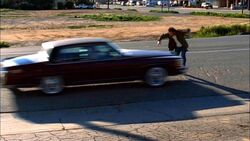 Karma is an Indian/Hindu religious belief and a complex Buddhist principle that the effects of all deeds actively create past, present, and future experiences, thus making one responsible for one's own life, and the pain and joy it brings to him/her and others.
The concept of karma was introduced to Earl Hickey after he watched an episode of "Last Call with Carson Daly", in which Daly explained karma to his guest, Trace Adkins. Earl related the concept to his own situation; after winning a $100,000 lottery prize he had instantly lost the ticket and been run down by a car. Earl decided that if he began to do good things, good things would begin to happen to him, and sure enough after creating his list and beginning to cross things off it, he found his lottery ticket again ("Pilot").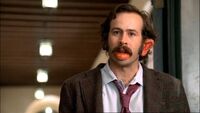 Earl encountered Alex Meyers whilst crossing items off his List, and after she showed an interest in him he decided to stop crossing items off the List for a while and focus on a relationship with her. However, Earl soon discovered that karma would not allow such a thing, after inflicting both of them with painful bee stings. Earl told Alex that he had to leave, but if he ever managed to finish his List he would find her out again ("The Professor").
Earl continued to cross items off his list for a long time, but after several years he realised that, since winning his lottery money, nothing good had happened to him. He threw away his list and decided to revert to his life of bad doings, but almost instantly afterwards was run down once more and became comatose ("Bad Earl"). However, once he came out of his coma Earl decided to seek out Billie, a girl who he believed was his soulmate after she appreciated his work on the List ("Love Octagon"). The two hastily got married, but they both realised that they were not meant to be together, and departed ("Camdenites (Part 2)").
As Oscar, Catalina's nephew, arrived in Camden, Earl and Randy discovered that he was possessed with voodoo powers, which greatly scared Joy. She led a mob of people against Oscar, and to protect him Earl crossed an item off his List, which turned the crowd back in his favour ("Little Bad Voodoo Brother").
Notes
[
]