Nadine Velazquez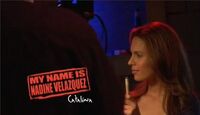 Date of Birth
20 November 1978
Birthplace
Chicago, Illinois, USA

Nadine Velazquez plays the role of Catalina Aruca on My Name is Earl. She has appeared in the least amount of episodes out of all the main cast.
Biography
[
]
Velazquez was born in Chicago, Illinois, of Puerto Rican descent. She attended Notre Dame High School for Girls, and has a BA in marketing.
She appeared on the January 2006 cover of Stuff, and was named #39 in the annual Maxim Hot 100 list. She was also originally cast as Fernando Sucre's girlfriend Maricruz Delgado in the FOX series Prison Break (which featured Silas Weir Mitchell) but acquired a role in My Name Is Earl instead. She can be seen briefly on the Prison Break set in a featurette on the show's first season DVD set. She was one of the judges in the Miss Universe 2008 beauty pageant.
Velazquez is one of the actors in the star-studded monologue show Skirts & Flirts. Her latest roles were in the film War with Jet Li and Jason Statham, and in the Oxygen Network original television film Husband for Hire.
Velazquez is married to talent agent Marc Provissiero.
Selected filmography
[
]
Husband for Hire (2008)
War (2007)
A Day in the Life (2007)
Kings of South Beach (2007)
House of the Dead 2 (2005)
Sueño (2005)
Hollywood Vice (2005) (TV
The Last Ride (2004)
Blast (2004)
Chasing Papi (2003)
Biker Boyz (2003)
Television appearances
[
]
My Name Is Earl (2005-2009)
Las Vegas (2005)
Entourage (2004)
The Bold and the Beautiful (2003)