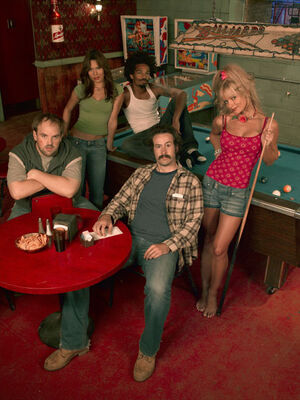 Season 1 of My Name is Earl began in September 2005 on NBC. Creator Greg Garcia wrote the pilot while working on another sitcom. He initially pitched the series to Fox, which passed on the series. He then approached NBC, which optioned the pilot on a cast-contingent basis, meaning they would order the pilot provided a suitable cast could be assembled.
Jason Lee was approached for the lead role, but was uninterested in working in television and passed on the series twice before finally agreeing to read the pilot script. Though he liked the pilot, he was hesitant to commit until after meeting with Garcia. The series premiere on September 20, 2005, drew in 14.9 million viewers in the United States, earning a 6.6 rating. By the airing of the third episode it was apparent that My Name Is Earl was the most popular of NBC's new fall offerings, and a full season (22 episodes) was ordered. The season concluded on May 11 2006, and 24 episodes were made.
Season overview
[
]
The first season revolves around Earl Hickey and his discovery of the concept of karma. After winning $100,000 on a scratch card then losing it after being run down by a car, Earl sees an episode of "Last Call with Carson Daly", in which he learns about karma. After putting it into practice Earl finds his scratch card again, and so creates a List of everything wrong he has done in his life and decides to make up for them all.
An alternate pilot was made, which is included in the Season 1 DVD, that shows Earl making a List of everyone who has ever screwed him over, and his pursuit to get them all back for doing him wrong.
Cast
[
]
Main cast
[
]
Recurring cast
[
]
Episodes
[
]
#
Image
Title
List Number
Airdate
01
Pilot
23, 41, 64, 86, 102, 136
September 20, 2005
After Earl Hickey, a small-time thief with a messed-up life, is immediately hit by a car after winning the lottery, he is introduced to the concept of karma and decides to try to make up for all the bad things he has done.
02
Quit Smoking
49, 73, 86, 102, 112
September 27, 2005
Donny, an intimidating thug, spent two years in jail for a robbery Earl committed. Oddly enough, the only way Earl can make it up to him is by helping Donny's mom quit smoking. Meanwhile, Joy discovers she's the beneficiary of Earl's will and decides to kill him.
03
Randy's Touchdown
58
October 4, 2005
Back in their high school days, Earl ruined Randy's chance to score a touchdown during a key football game. He decides to make up for it by helping Randy get the touchdown he always wanted.
04
Faked My Own Death
84, 203
October 11, 2005
When Earl met a tough biker chick at a Halloween party, it looked like a match made in heaven – but when the costumes came off, the mismatch became apparent and Earl took drastic measures to get out of the relationship. So how does he tell her he's still alive?
05
Teacher Earl
27
October 18, 2005
Earl decides to teach English as a Second language to cross "Made fun of people with accents" off his karma list. Meanwhile Ralph, an old friend and partner in crime, is released from prison; Earl tries to teach him about karma, but things don't go as planned.
06
Broke Joy's Fancy Figurine
153
November 1, 2005
To replace a fancy figurine that he broke, Earl lends a hand to help Joy's former adversary and her daughter win a mother/daughter beauty pageant.
07
Stole Beer from a Golfer
139, 260
November 8, 2005
Earl attempts to help Scott get over his preoccupation with golf – an obsession caused when he and Randy started fixing Scott's golf game to get free beer. But soon Earl realizes that he may be the one with the obsession.
08
Joy's Wedding
261, 262
November 15, 2005
Earl's ex-wife marries Darnell the crab man; Randy is invited but Earl is not. Doubling the insult, Joy schedules the wedding on Earl's birthday so that all of their friends will be unable to celebrate with him.
09
Cost Dad the Election
4, 86, Unnumbered list item 1
November 22, 2005
Earl remembers #4, how he cost his father the last mayoral election, and against his father's wishes Earl signs him up to run again. His father is at first angry at Earl for doing this, but after hearing the public's response, decides to go ahead with it.
10
White Lie Christmas
98, Unnumbered list item 2
December 6, 2005
Earl has wrecked every Christmas he's spent with Joy, so he, Randy and Catalina try to win a Dodge Neon in a contest wherein they had to keep their hands on said car, in an attempt to get Joy the car for a Christmas present.
11
Barn Burner
98, 164, 188, Unnumbered list items - 3, 4, 5
January 5, 2006
When trying to enroll her children into the Right Choice Ranch for troubled youth, Joy is denied enrollment because of a barn burning incident at the hands of a younger Earl.
12
O Karma, Where Art Thou?
202
January 12, 2006
When Earl and Randy try to return a stolen wallet, they find out taking the money had cost two newlyweds their honeymoon. In an attempt to make things right, Earl takes over for the groom at his fast food restaurant.
13
Stole P's HD Cart
159
January 19, 2006
Earl crosses another number off the list when he returns Pop's Wiener Hot Dog cart he and Ralph stole in their youth. The good deed does not last long as Ralph, who works for a competing franchise sets fire to Pop's cart.
14
Monkeys in Space
18
January 26, 2006
Earl tackles number 18 on his list when one of his old friends is arrested. Remembering that he told an inappropriate story at his birthday party, he must give him one great day to make up the terrible one before he was sent to prison.
15
Something to Live For
62
February 2, 2006
Earl takes his car troubles as a sign that it is time for him to redeem himself for a long run of stealing gas out of a complete stranger's car.
16
The Professor
37, 264, 265
February 9, 2006
Earl is nervous about returning a laptop computer he stole from a college professor, mostly because he is uncomfortable around smart people. When the professor turns out to be a beautiful woman, he feels even more ill at ease.
17
Didn't Pay Taxes
266
March 2, 2006
Earl attempts to cross off another deed of his list. This time it is trying to repay the government after failing to pay his taxes in the past.
18
Dad's Car
42, 67, 108, 267, 268
March 16, 2006
It's Mother's Day again when Earl remembers that he has never given his mother a Mother's Day gift. Just as he and Randy are about to finish carrying out his long overdue gift, his mother decides her repayment should include Earl doing something for his father.
19
Y2K
24, Unnumbered list item 6
March 23, 2006
When Earl is attempting to cross number something off his list, Randy tries to get Earl to back down by trying to make him remember how they got the machine around New Year's Eve 1999.
20
Boogeyman
239
March 30, 2006
Earl decides to cross off "made a kid scared of the Boogeyman" from his list. Earl soon discovers just what kind of lasting affect he had on the little boy.
21
The Bounty Hunter
145
April 6, 2006
Number 145, "Ditched Jessie to Marry Joy" is next on the list when Jessie, Earl's ex-girlfriend, returns to town seeking revenge. Earl must protect Joy in a lakeside retreat while Randy fights not to reveal their location to Jessie.
22
Stole a Badge
127
April 27, 2006
Earl tackles no. 127 on his list by making amends for pilfering a police officer's badge. When he discovers that the theft resulted in the cop's demotion, he tries to get the officer reinstated.
23
BB
147
May 4, 2006
Earl attempts to cross out number 147 on his list, "shot Gwen Waters in the ass with a BB Gun". To make things right he must reunite Gwen with her estranged father, which Earl finds increasingly difficult.
24
Number One
1, 57, 119
May 11, 2006
Earl decides to cross off the first number on his Karma list, "stole ten dollars from a guy at the Camden Market". Earl to his dismay finds out that he owes much more than ten dollars, in fact he must surrender all his lotto winnings.
See also
[
]
| | | |
| --- | --- | --- |
| Previous season: | Current season: | Next season: |
| - | Season 1 | Season 2 |