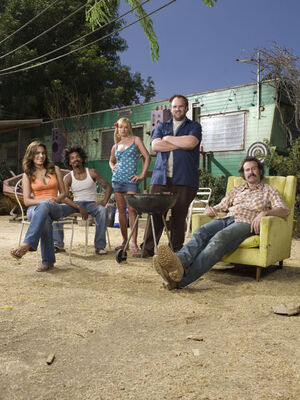 Season 2 of My Name is Earl began in September 2006 on NBC, and concluded in May 2007. The season featured Earl completing more points on his list and taking the heat for a crime Joy committed, forcing him to serve time in jail.
The second season was released on DVD on September 25, 2007, just after the premiere of Season 3.
Season overview
[
]
The second season revolves around Earl continuing to cross items off his List to help make himself become a better person. Midway through the season he and Randy end up in Mexico to help save Catalina who was deported, which ends with Randy and Catalina marrying. Meanwhile, Joy faces several years in prison after hijacking a truck with a man accidentally locked inside. The very real possibility of her being sent to jail is quashed when Earl confesses to her crime, saying that it was he who stole the truck, and is thereby sentenced to two years in prison.
Cast
[
]
Main cast
[
]
Recurring cast
[
]
Episodes
[
]
#
Image
Title
List Number
Airdate
01
Very Bad Things
183
September 21, 2006
Earl helps Joy try to get rid of a stolen delivery truck, which becomes harder when they discover that someone is still in the back of the truck.
02
Jump for Joy
None
September 28, 2006
Earl and Randy ask Catalina to return to her old job at the strip club, but they don't tell her that they need her to do it so that the club's owner will pay for Joy's bail.
03
Sticks & Stones
91
October 5, 2006
Earl makes up for teasing a mustached girl in school, and it forces him to confront his fear of taking his shirt off in public.
04
Larceny of a Kitty Cat
56, Unnumbered list item 7
October 12, 2006
Randy has a crush on the next woman on Earl's list, so he pretends to be a cat lover, despite an allergy. But based on Randy's past experiences as a poser, Earl knows that this one will end badly.
05
Van Hickey
49, 50, 51
November 19, 2006
Earl has to get his old band back together to take care of an elderly man on his list. But it only brings out a nasty secret which ultimately forces Earl to marry Ralph's mom.
06
Made a Lady Think I Was God
12
November 2, 2006
Earl wants to make amends to an angry, bitter trailer park manager for playing a trick on her. But the trick caused her to change her life for the better, and the apology makes her even angrier than she ever was.
07
Mailbox
75, Unnumbered list items - 8, 9
November 9, 2006
Catalina helps Earl cross #75 off his list which involves delivering mail which was found in a mailbox which Randy and Earl used as a waste basket. Earl then falls in love with the intended recipient of one of the letters.
08
Robbed a Stoner Blind
26
November 16, 2006
After Earl and Randy attempt to make amends with a former drug addict, Earl decides to join him for a week at a commune and then tries to prevent global warming from spreading.
09
Born a Gamblin' Man
146, Unnumbered list item 10
November 30, 2006
Earl's gay friend Kenny wants to be more masculine, so Earl tries to teach him. They both develop a gambling problem – indirectly causing Catalina to get deported, just as Randy is getting ready to reveal that he loves her.
10
South of the Border, Part Uno
269
December 7, 2006
Earl and Randy head south into Mexico to look for Catalina, deported from America, but run into a variety of obstacles.
11
South of the Border, Part Dos
269
December 7, 2006
Randy is heartbroken when Catalina's uncle announces that Earl has agreed to marry her so she can get a green card. So Earl agrees that Randy will marry her instead.
12
Our 'Cops' Is On!
271, 272
January 4, 2006
The townspeople gather around the Crab Shack's TV to watch an episode of Cops featuring Camden County. But this reveals more problems to add to Earl's list.
13
Buried Treasure
52
January 11, 2007
Earl, Joy and Randy stole and buried some historic silverware from the town museum. Earl resolves to return it, but where is it? Randy, Joy and Darnell each have a secret.
14
Kept a Guy Locked in a Truck
270
January 18, 2007
Earl sets out to atone for having locked a man in a truck, only to discover that that man has since died, and puzzles over how he can make amends. So he tries to throw a funeral for him.
15
Foreign Exchange Student
44
February 1, 2007
Earl wants to make up for teasing a former French foreign-exchange student, but after he flirts with Catalina, Randy becomes jealous, leading to him finally telling Catalina that he loves her.
16
B.L.O.W.
101
February 8, 2007
Earl takes on number 101 on his list, "Stole a girl's identity." The girl turns out to be Joy's half-sister that she never knew about.
17
The Birthday Party
12, 64, 91, 86, 261, Unnumbered list items - 11, 12, 13, 14, 15, 16, 17, 18
February 15, 2007
Hoping for his good deeds to be recognized, Earl celebrates his birthday but is instead reminded of more unresolved issues on his list.
18
Guess Who's Coming Out of Joy
None
February 22, 2007
Joy's pregnancy with Earl Jr. makes Earl reflect on his marriage between him and Joy.
19
Harassed a Reporter
29, 40, Unnumbered list item 19
April 12, 2007
Earl tries to make amends with a television reporter, Nicole, whose career went down after reporting false news that Earl and the gang had given. Nicole interviews Earl about his past and the list in hopes that it will bring back her career.
20
Two Balls, Two Strikes
43
April 19, 2007
Camden County's well-known businessman, Richard Chubby dies. His son, Little Chubby takes his place. Like his father, Little Chubby also had a terrible demeanor, until an "unfortunate accident" caused by Earl several years ago.
21
GED
273, 273A, 273B, 273C
April 26, 2007
After Earl gets rejected to apply for a credit card for not having a high school diploma, a job, or a real place to live, he decides he needs to take some big steps towards finally growing up.
22
Get a Real Job
273B
May 3, 2007
When Earl tries to get promoted to salesman at his new job, he gets his customers stolen away by the other, college educated staff. With Joy's court date approaching, she prepares Darnell and her kids for their uncertain, possibly Joyless future.
23
The Trial
33, 273, 273C, Unnumbered list item 20
May 10, 2007
Earl and Randy move out of the motel and get an apartment. Joy faces a life sentence in prison, and Earl decides to testify as a character witness. Earl starts dating Joy's deaf lawyer when he still has a void in his life that an education and a job couldn't fill.