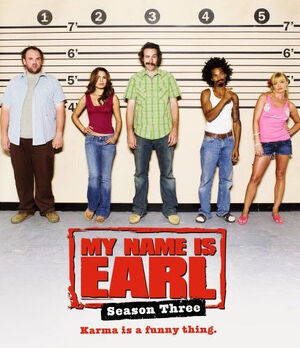 Season 3 of My Name is Earl began on September 27, 2007 on NBC, and concluded on May 15, 2008. The season featured Earl dealing with life in prison, as well as life afterwards and his loss of faith in karma. Originally, 25 episodes were planned for the season, but due to the 2007-8 Writers' Guild of America Strike there were only be 22 episodes instead. The season also saw a drop in viewer's, which continued from season 3 to season 4 (this drop in ratings would eventually lead to the show's cancellation).
The third season was released on DVD on September 23, 2008.
Season overview
[
]
The third season revolves around Earl's life in prison and the troubles he encounters. However, he begins to do good deeds for the Warden, who rewards him with time off his jail sentence. Meanwhile, Randy has trouble coping without Earl, and so Joy and Darnell take him in.
After the Warden goes back on his word and does not let Earl out early, he breaks out of prison with the help of his friends. However, he has a loss of faith in karma, saying that nothing good happened to him since he began the List. Soon after, he was run down by Billie Cunningham, a woman he met in prison who was then the girlfriend of Frank, one of Earl's friends. Earl was certain that he and Billie were soulmates as karma had brough them together, but he was left in a coma after the accident. After recovering he sought out Billie, but their relationship was not as he had hoped.
Cast
[
]
Main cast
[
]
Recurring cast
[
]
Episodes
[
]
#
Image
Title
List Number
Airdate
01
My Name Is Inmate 28301-016 (Part 1)
Unnumbered list item 21
September 27, 2007
Earl finds out that prison life is going to be harder than it is. Randy is having a hard time living without Earl by his side, so Joy and Darnell take him in.
02
My Name Is Inmate 28301-016 (Part 2)
Unnumbered list item 21
September 27, 2007
Earl encounters one of the people on his list, Glen. Earl helps Glen by making him earn his scout badges, which in turn leads to Glen getting parole.
03
The Gangs of Camden County
None
October 4, 2007
Earl is offered a deal to receive a a month time off his sentence if he can negotiate a truce between the African-American gang and the Latino gang. Meanwhile, Randy looks for ways to join Earl in prison and finally finds one by becoming a prison guard.
04
The Frank Factor
None
October 11, 2007
Earl reunites with an old friend and now fellow inmate Frank, who is in prison for robbery. Catalina and Darnell's arrival in Camden County is also explored.
05
Creative Writing
None
October 18, 2007
The prison holds a class for creative writing, but Earl can't think of anything to write. While Earl struggles to write, Randy, Joy, Darnell, and Catalina have no trouble coming up with creative story ideas of their own and take a few trips into their own fantasy worlds.
06
Frank's Girl
Pillow List
October 25, 2007
It's conjugal visiting day at the prison, but things don't go well for Frank, who is dumped by his girlfriend Billie because of Earl. Earl blames himself and vows to get them back together, but he has second thoughts when he discovers that she'd be better off without him.
07
Our Other 'Cops' is On! (Part 1)
None
November 1, 2007
Earl and Randy watch the filming of Cops in Camden County where the different situations are slightly related to Earl. Meanwhile, Kenny's hatred for Earl is caught on camera.
08
Our Other 'Cops' is On! (Part 2)
None
November 1, 2007
As a result of the Cops episode the prisoners' respect for Randy increases.
09
Randy in Charge
None
November 8, 2007
When Earl suggests that Randy might not be right for the job of prison guard, the brothers argue over who is really in charge while Earl is in prison.
10
Midnight Bun
None
November 15, 2007
An impatient Joy prepares to give birth and pressures Darnell to expedite the process. Earl and Randy are teamed up against their will to catch Frank, who escaped from a prison van under Randy's watch.
11
Burn Victim
None
November 29, 2007
After helping the Warden out with numerous tasks, Earl has discovered that his sentence has been reduced to six months left in jail. However, the Warden is now faced in a major dilemma and needs Earl's help.
12
Early Release
None
December 26, 2007
After Earl discovers that the Warden has destroyed his time off for good behavior certificates, he turns to his friends on the outside combined with Randy and Frank's help on the inside, to break out of the prison.
13
Bad Earl
205
January 10, 2008
Earl has a hard time adjusting back to normal life and continues to hold a grudge with karma. With no job, no home and no money, Earl decides that his good deeds are not getting him anywhere, so he reverts back to his old bad ways.
14
I Won't Die with a Little Help from My Friends (Part 1)
N/A
April 3, 2008
Earl is still lying in the middle of the road next to Billie, both of whom are unconscious after being hit by a car. The accident puts Earl in a coma and takes him to an alternate world in the form of a sitcom. Meanwhile, the doctor rejects Earl so Randy, Joy, Darnell and Catalina steal a ambulance to get Earl to the hospital.
15
I Won't Die with a Little Help from My Friends (Part 2)
45, Unnumbered list item 22
April 3, 2008
Earl is still in a coma, but the doctors at the hospital refuse to try and pull him out of it. After desperate attempts to wake him up Randy tracks down a little boy who can cure everything with his finger.
16
Stole a Motorcycle
30
April 10, 2008
Earl is still in a coma, but Randy realizes that each item he completes off Earl's list helps Earl get better. After letting fate pick his next task, Randy gathers Joy and Darnell to help him solve the mystery of the stolen motorcycle from the Teutul family.
17
No Heads and a Duffel Bag
9
April 17, 2008
With Earl still in a coma, Randy and Joy decide to continue crossing items off Earl's list to improve his recovery.
18
Killerball
116, 126, 241
April 24, 2008
Randy decides that putting Earl in long-term care is not the best decision, so he decides to take care of Earl himself. Joy and Darnell do not approve of Randy's newly adopted responsibility of taking care of his brother, but decide to let it play out for a bit.
19
Love Octagon
N/A
May 1, 2008
After waking up from a coma, Earl now knew what was important in his life and he was set on going after it. He knew that he had to find Billie, whom he felt karma brought to him to be his soul mate.
20
Girl Earl
Unnumbered list item 23
May 8, 2008
After karma leads Earl back to Billie, they decide that they were meant to give their relationship a chance. Billie is inspired by Earl's good deeds and creates a karma list of her own.
21
Camdenites (Part 1)
86, 204
May 15, 2008
Earl is still questioning karma bringing Billie into his life. With the troubles in their marriage escalating, Earl turns to friends for advice. He realizes the best advice he gets is to follow his dad's example, which was to just work late and spend less time with his wife.
22
Camdenites (Part 2)
86, 204
May 15, 2008
Billie grows very annoyed of Earl's karmic list and forces Earl to decide between the list or Billie. When Earl chooses the list, Billie starts to undo all his good deeds by hurting the residents of Camden County.