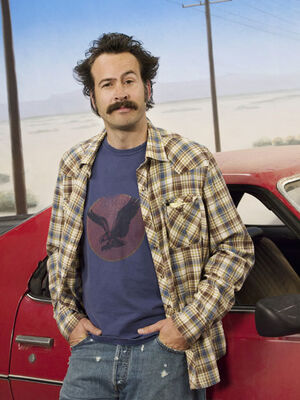 Season 4 of My Name is Earl began on September 25, 2008 on NBC, and concluded May 14, 2009. The season featured Earl returning to crossing items from his List, and showing the problems he encounters whilst doing so.
Unlike previous years, Season 4 has many more episodes than a regular television season, with 27.
Following the airing of Dodge's Dad, My Name is Earl was cancelled by NBC.
Season overview
[
]
The fourth season returns focus to its original place: Earl going through the List and righting his past wrongs. Along the way Earl forgives Joy for cheating on him so long ago, reunited with old friend who he had wronged, as well as losing another. He continues to cross many items off his List with the help of his younger brother Randy.
Meanwhile, things are no so simple for the Turners; after Darnell's cover is blown, he and the family have to move to a new home (to Joy's dissatisfaction) as part of his cover in the Witness Protection Program.
Cast
[
]
Main cast
[
]
Recurring cast
[
]
Episodes
[
]
#
Image
Title
List Number
Airdate
01
The Magic Hour
Unnumbered list item 24
September 25, 2008
When Joy cons Make-A-Wish to send a celebrity to her trailer, Earl remembers a wish he stole from a dying child and decides it's time to cross him off the list.
02
Monkeys Take a Bath
87
September 25, 2008
Earl takes on #87 on his list, "chased away Mom and Dad's friends", so he and Randy visit their parents to bring back their old friends. However, the visit leads to a revelation that all of the Hickeys would rather not have known.
03
Joy in a Bubble
72
October 2, 2008
After Joy gets an infection, Earl has to take over Joy's role and do all the things she would normally do, which gives him some revelations about the Turners and his kids.
04
Stole an RV
47
October 2, 2008
Earl wants to make up for a stolen and destroyed RV from a war veteran, while Joy hunts for the legend of Pigsquatch.
05
Sweet Johnny
7
October 9, 2008
Earl wants to make up for sleeping with local stuntman Sweet Johnny's girlfriend, but has problems when he discovers that Johnny has lost his memory. Meanwhile, Joy feels the need to buy a gun.
06
We've Got Spirit
Unnumbered list items - 25 & 26
October 16, 2008
Earl is reminded of another list item about Kenny James's former cheerleading dreams, but is shocked to find that it was Randy who had the hopes.
07
Quit Your Snitchin'
213
October 23, 2008
Earl needs to decide whether to take a matter of stealing to the police and become a snitch, or to hark back to his old criminal ways.
08
Little Bad Voodoo Brother
94, Unnumbered list item 27
October 30, 2008
Earl plans a Halloween party for Dodge and Earl Jr, while Catalina's nephew Oscar visits. This poses an opportunity for Randy to become the big brother he always wanted to be.
09
Sold a Guy a Lemon Car
Unnumbered list item 28
November 6, 2008
When a mysterious man named Lloyd moves next door to Earl and Randy a life-or-death item suddenly jumps to the top of the list. Meanwhile, Joy becomes obsessed with winning a science fair so that she can buy a necklace designed by Jane Seymour with the $500 prize money.
10
Earl and Joy's Anniversary
Unnumbered list item 29
November 13, 2008
When Earl goes to fix one of his wrongs he begins to reminisce about his first wedding anniversary with Joy when Randy threw them a surprise party at the Crab Shack. But when Earl's more successful and handsome cousin Blake shows up Earl feels like a less than adequate husband.
11
Nature's Game Show
274
November 20, 2008
A series of tornados hitting Camden County aren't Earl's biggest concern when he loses his list. Meanwhile, a wild ride in a boat causes Randy to think he's invincible, whilst Catalina and Patty have a religious awakening.
12
Reading is a Fundamental Case
219
December 4, 2008
Earl brings the Bookmobile to the trailer park, explaining that Camden couldn't afford the classics so they bought knock-offs, and settles down to read "Trazan, the Ape-Man" to a group of kids and Randy. Like all good adventures, this one begins back before Earl had his list.
13
Orphan Earl
201
December 11, 2008
When a scruffy guy tells Joy a sad story and asks for money, she pretends to believe his tale of woe, and takes him inside the Crab Shack so everyone can laugh at him. This reminds Earl of #201 on his list, conned an old man out of $100.
14
Got the Babysitter Pregnant
Unnumbered list item 30
January 8, 2009
A waitress with news that she's not pregnant gets Earl thinking about his former hot babysitter and first love, Rachel. Sadly, Earl's chance to make an impression on Rachel is dashed when her boyfriend Daniel shows up, so Earl decides to make him pay...
15
Darnell Outed (Part 1)
31, 128
January 15, 2009
When auditions for Erik Estrada's new reality show come to Camden, Earl encourages Joy to go for her childhood dream of becoming famous and tryout. Joy, initially reluctant, steals Randy's audition and makes a fool of herself. Her crazy antics are a cause for concern when Darnell receives a startling phone call.
16
Darnell Outed (Part 2)
31
January 22, 2009
After losing his witness protection cover, Darnell must pack up the family and assume a new identity; meanwhile, Earl and Randy, make a shocking discovery at the post office: maybe Joy can challenge Erik Estrada in his show anyway.
17
Randy's List Item
None
February 5, 2009
When Randy loses his winning lottery ticket, he assumes the event to be a message from Karma, so he starts a list of his own. Meanwhile, Joy is not happy with her cover identity of the witness protection program.
18
Friends With Benefits
None
February 12, 2009
When Mr. Turtle returns back to Earl, he wants to bring him back to Darnell. Meanwhile, Joy and Darnell have to adapt to a new lifestyle of their cover identities.
19
My Name is Alias
None
February 19, 2009
Darnell's father comes looking for him in Camden only to raise Earl and Randy's suspicions. However, a family reunion leads to father and son partaking in one last undercover mission and take Earl along for the ride.
20
Chaz Dalton's Space Academy
Unnumbered list item 31
March 5, 2009
When Dodge begs Joy to let him attend space camp, Earl reminisces about the fun he and Randy had when they got to go to Chaz Dalton's Space Academy as kids. But when Earl decides to visit Chaz he soon realizes his childhood hero is not what he remembers. Meanwhile, Darnell runs into trouble trying to help Joy make friends on the Internet.
21
Witch Lady
186
March 19, 2009
After he apologizes to a crazy witch lady for all the trouble he caused her as a kid, Earl faces his fears and tries to make it up to her. But when she turns out to be crazier than Earl thought, he and Randy wind up in a life-or-death situation.
22
Pinky
83, 277
March 26, 2009
As Dodge develops feelings for a young girl in the neighborhood, Randy is reminded of the summer when he met his first love, Pinky. Encouraged by Darnell to reconnect with her, Randy and Earl set off to find the girl Randy has been dreaming of all these years.
23
Bullies
32
April 16, 2009
Randy takes drastic measures to avoid Joy's bullying, while Earl attempts to cross off another list item for bullying an old schoolmate.
24
Gospel
35
April 23, 2009
Earl wrongs the Reverend. While making up a list item to a local Reverend, Earl realizes he and Randy have wronged the man more than once. The more things the Reverend finds out Earl did, the harder it is for him to forgive. Meanwhile, after hitting Catalina with a riding mower, Joy turns to Darnell for help. But she doesn't like his advice.
25
Inside Probe (Part 1)
None
April 30, 2009
When Ernie Belcher, owner of the Crab Shack, disappears, Geraldo Rivera and his news show, "Inside Probe," come to Camden to investigate. Eight years later, the story finally airs on television and all of Camden gathers to watch as Earl and Randy become the prime suspects in what is now turning into a murder case. After Nascar driver Michael Waltrip provides clues from the fateful night, other Camden residents become suspects as well.
26
Inside Probe (Part 2)
None
May 7, 2009
All of Camden County has gathered at the Crab Shack to learn about the dramatic conclusion to the story of Ernie Belcher's disappearance. Earl and Randy think it was an alien abduction. Darnell suspects a hundred-year-old feud. Joy and Catalina wonder if Ernie's freaky sex tapes could be the answer. But when the truth is revealed, everyone is shocked to find the answer has been under their noses all along.
27
Dodge's Dad
174
May 14, 2009
Earl searches for Dodge's dad. When Dodge tells Joy he doesn't want Darnell to speak at career day, she enlists Earl to pretend to be his father. Things don't go well and Earl realizes Dodge needs to know his real dad. Despite Joy's protests, Earl enlists Randy and Catalina to help him hunt down the deadbeat dad, but what they discover is worse than they could have imagined.
| | | |
| --- | --- | --- |
| Previous season: | Current season: | Next season: |
| Season 3 | Season 4 | - |