Jurassic World: Dominion Dominates Fandom Wikis - The Loop
Play Sound
Unnumbered list item 11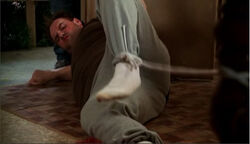 List title
Pulled pranks on Randy
Unnumbered list item 11 was an unnumbered item on The List.
Pulled pranks on Randy
[
]
This list item was the 1st of 8 unnumbered list items featured in the episode The Birthday Party. Earl was having a birthday party at the Crab Shack to celebrate all his good deeds he did with his list, only to be reminded by everyone of bad things he had done in the past.
This item "Pulled pranks on Randy" was when Earl was into a show where guys acted like jackasses, Earl thinks it was called "Dumbass"(MTV's Jackass). When his neighbors cable TV got shut off he had to entertain himself. The pranks pulled were done when Randy was sleeping: Earl tied a rope around his leg, and attached it to the couch, so when Randy woke up, due to the ice-cream man's bell, he fell. He attached a vacuum to his crotch and plugged it in to wake him up. Poured water on his crotch while sleeping, Randy caught on saying "Its supposed to be warm", not realizing that Earl tied a rope around his leg again, cue ice-cream man.
It was Randy's idea at the birthday party, that everyone would remind Earl of some of the bad things he did, as a prank. Before Earl was let in on the joke he had enough, and left the party early. They decided to "Surprise" him in his motel room, and as gifts they each crossed off the item that they mentioned. This unnumbered list item was absolved.