Unnumbered list item 13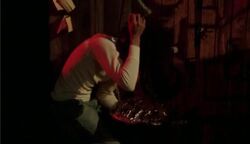 List title
Got Darnell stoned (literally)
Unnumbered list item 13 was an unnumbered item on The List.
Got Darnell stoned (literally)
[
]
This list item was the 3rd of 8 unnumbered list items featured in the episode The Birthday Party. Earl was having a birthday party at the Crab Shack to celebrate all his good deeds he did with his list, only to be reminded by everyone of bad things he had done in the past.
This item "Got Darnell stoned (literally)" started with a conversation between Darnell and Earl. Randy filled in Darnell about the bad Earl pranks, and Earl comments: "I wrote them down, but I've done good things too, like take care of your son for 5 years, lets not forget about that." Darnell responds: "Oh I remember, although its a miracle that I remember anything after that time you got me stoned."
Darnell used to make brownies and sell them at the Crab Shack, some with and some without marijuana for 25¢ and $5 respectively. One night Earl and Randy decided to switch the signs, which lead to plenty of unhappy people. By the end of the night there was a mob behind the Crab Shack waiting for Darnell, where he got "stoned" with large rocks.
It was Randy's idea at the birthday party, that everyone would remind Earl of some of the bad things he did, as a prank. Before Earl was let in on the joke he had enough, and left the party early. They decided to "Surprise" him in his motel room, and as gifts they each crossed off the item that they mentioned. This unnumbered list item was absolved.