Unnumbered list item 16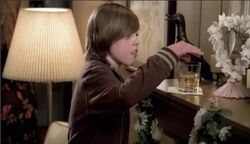 List title
Almost got Dad divorced and gave him a back problem
Unnumbered list item 16 was an unnumbered item on The List.
Almost got Dad divorced and gave him a back problem
[
]
This list item was the 6th of 8 unnumbered list items featured in the episode The Birthday Party. Earl was having a birthday party at the Crab Shack to celebrate all his good deeds he did with his list, only to be reminded by everyone of bad things he had done in the past.
Earl "Almost got Dad divorced" when he was young. Carl tells Earl that whe he was a boy he was a pain in the ass. They would argue and Carl would always get the upperhand. Thinking his dad was a Jerk, Earl decided to steal some of Eric's moms pills and lace his drink, at his mother and father's anniversary party. This took him from unhappay to a little too happy, which lead to "Goosing", crude humor, and an offer of a "Key Party". Earls dad slept on the couch for a week after that party, which gave him a back problem.
It was Randy's idea at the birthday party, that everyone would remind Earl of some of the bad things he did, as a prank. Before Earl was let in on the joke he had enough, and left the party early. They decided to "Surprise" him in his motel room, and as gifts they each crossed off the item that they mentioned. This unnumbered list item was absolved.