Unnumbered list item 19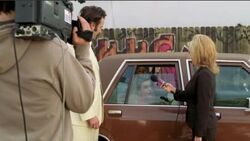 List title
Cost Patty the Daytime Hooker a client
Unnumbered list item 19 was an unnumbered item on The List.
Cost Patty the Daytime Hooker a client
[
]
Earl and Randy visit Nicole, #28 on Earl's list, at the TV station. Nicole thinks she can redeem her career with a heartwarming story pulled from Earl's list, and he promises to help. Earl closes his eyes and picks a story from his list: losing an important client for a business woman. When the woman turns out to be Patty, Nicole exclaims that she can't do a heartwarming story about a hooker. This list item was started but not completed.